05-26-2016 Final Stats: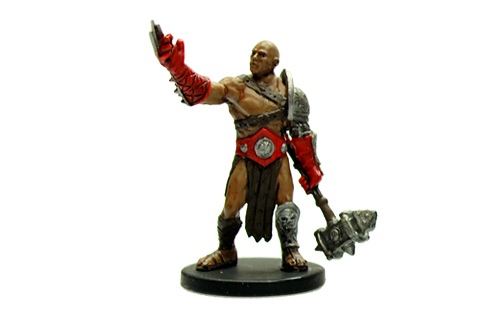 MALLEUS
General: Einar
Planet: Earth
Species: Human
Unique Hero
Class: Gladiator
Personality: Wild
Medium 5
Life: 3
Move: 5
Range: 1
Attack: 4
Defense: 3
60 points
SHIELDBREAKER
Figures attacked by Malleus cannot roll extra defense dice from any special power on an Army Card or glyph.
GLADIATOR SUPREMACY
Anytime you roll the 20-sided die for a Gladiator Army Card, you may add 1 to your die roll, or if Malleus is engaged, you may add 2 to your die roll.
BERSERKER CHARGE ENHANCEMENT
Add 1 to your die roll when you roll for the Berserker Charge power on any Army Card.
--
BIO:

During the reign of Caesar Augustus, Rome waged a bloody conflict in the northwest of the Iberian Peninsula against the last independent nations of Hispania. The Cantabri were renown mountaineers who, while considered savage and untamable, banded together to hold the Romans at bay. Along with other nations, the Cantabri put up such fierce resistance against Rome that it took ten years and over 50,000 soldiers to subdue the region.

At the end of the conflict, many young families escaped into the Sierra Morena mountain in the Iberian Peninsula under the leadership of Melos Savar. The aptly named "dark range" was dangerous terrain, with a vast wilderness, but the teenage Melos knew that his people could survive off of the land and evade capture. Melos, a few of his younger siblings, and other boys and girls from the fallen tribes took what they could from the forests and, when necessary, raided Roman encampments for tools and weapons. After several years, the young barbarians grew stronger and more bold, eventually staging attacks on both merchant and military caravans traversing the mountain passes. Melos was against this at first but he needed to keep his people fed.

The Romans had paid a heavy price to control Hispania, and when word reached the Senate of a possible Cantabri rebellion, a full cohort of nearly 500 men were sent to the mountains. Overwhelmed, Melos and his kinsmen were forced to surrender. When word reached the Senate that a boy of 14 years of age was leading the barbarians, an ambition consul by the name of Quintus Valerius purchased Melos and his siblings as slaves. Quintus put Melos to work in the silver mines, where the boy crushed rocks with a hammer day and night for over a year. When the consul returned to find the boy had survived and his savage spirit unbroken, he struck a deal with Melos. The barbarian would be given to a gladiator ludis for training and for each year that he survived, one of his tribe would be freed. Melos agreed under the condition that his bloodline be released first.

Training began in earnest and the long, wiry Melos faced much larger but slower men. He was deceptively strong and unpredictable, and he combined the training of his father along with the discipline of the gladiator. Melos survived his first few years but with many injuries. But as promised, consul Valerius released his sister and then the following year his brother.

By the age of 20, Melos's fame increased moving him from small pit fights into larger arenas. He had adopted the great maul as his weapon of choice and because of that became known as Malleus the Untamed in the arena. The massive hammer was unconventional, and being two-handed meant that he was without a shield. But the 14-pound weapon could crush the arm behind a shield, or do worse if it landed a clean hit upon his foe's body. For those that closed within grappling range, Melos also wore a blood-red spiked cestus. His violent savagery could overwhelm a less experienced opponent but his wild attacks left him vulnerable to more seasoned gladiators.

After six years in the arena, the now Malleus had freed some but not all of his people. He found his master, Quintus to be 'as honorable as a Roman could be.' But unfortunately for Malleus, consul Valerius was assassinated and his replacement, Altus Parinius, refused to keep the same bargain with the barbarian-turned-gladiator. Knowing he had little time, Malleus escaped with several other gladiators now owned by Parinius. They raided the consul's house and freed other slaves there but not without great losses. Malleus, armed with his great hammer, held the legionaires at bay so that the last of his tribe could escape. With savage rage, he held off more than a dozen soldiers, before several javelins pierced his chest.

When Malleus awoke, he was found himself in Valhalla under the healing powers of the Arch-Kyrie of Einar. His valor and untamed spirit had echoed through time to the General and he offered the barbarian warrior a second chance at life in his army.
Spoiler:


Archive: original stats

MALLEUS

General: EINAR
Planet: Earth

Species: Human
Unique Hero
Class: Gladiator
Personality: Wild
Medium 5

Life: 5
Move: 5
Range: 1
Attack: 4
Defense: 4
110 points

GREAT MAUL
When a defending figure receives one or more wounds from Malleus' normal attack, you may inflict one additional wound on that figure or one small or medium figure adjacent to it.

BRUTAL BODYGUARD
If an opponent's figure that is engaged with Malleus rolls for a leaving engagement attack against a figure you control that follows Einar and does not roll a skull, the opponent's figure receives 1 wound.


Last edited by Lord Kai on Sat May 28, 2016 12:41 am; edited 4 times in total